Never say we people in Positano don't know how to have fun. We do! We have great fun! Our Positano hosts know how to show us a good time, and then–before you can say Volare!–we know how to have it!
Fun, Positano style, starts with a free ride. A bus from the restaurant picks you up at your corner, or at your hotel if you happen to have one, and then wends its way up impossible hills on streets so narrow it takes a five-point turn to get around the corner, to pretty nearly the very top of the mountain on whose slopes Positano is laddered.
The views of Positano way below us are breathtaking.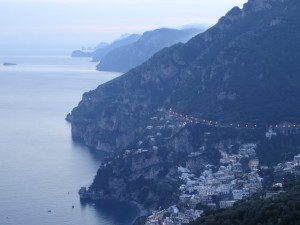 Fun continues at La Tagliata restaurant when the waiter asks if we'd like white wine? Red? Water?
We are quite literally on top of the world, and we're in a good mood. Yes, we say. Yes. All three of those things. And we are in fact plied with bottles we lose count of, house-made white wine and red wine. And water.
And the food! We are served endless courses of bountiful variety of food. More than enough for everyone. But still it keeps coming.
Somewhere around dessert time, the band comes out, and they begin singing the most tacky, the most schmaltzy, your-grandmother-would-have-loved-this kind of well-known Italian songs imaginable. But there is no groaning allowed here. This is the *fun* program!
Percussion instruments are handed out to every table, and everyone is encouraged to participate. And someone from every table inevitably does.
But you're not off the hook if you don't want to stand up and play an instrument. You can still clap! This is the Positano Fun Restaurant we're talking about here! So if you won't even clap, we have just the thing for you. Handkerchiefs! Stand up, folks, and wave those handkerchiefs! That's Amore!
If some of us inhibited New Englanders require instruction, it is provided. And it works!
But sooner or later, all good things must come to an end. The bus awaits to take us home. There are seven of us and only four seats left, but no problem! We sit in each other's laps and make the acquaintance of our new best friends on the bus. Of course this leads to the ever-popular refrains of Volare and That's Amore, and one by one as each group leaves the bus we sing each other Arrivederci.
I still have Volare stuck in my head. Can someone help me out a little here?
Mirrored from Ginger's Blog.